New Jersey's coastline expands about 130 miles and offers some of the best beaches on the east coast. Famous for the Jersey Shore, New Jersey offers an incredible array of experiences for families and partiers alike. Take a look at our list of the best beaches in New Jersey which provide everything from surfing opportunities to memorable boardwalk adventures.
From small 'dry' beach towns to lively reality television-style party towns, beaches along New Jersey's coast are all fun and have something to offer everyone. There are amusement parks, family beaches, party towns, beach sports, and so much more! There are even beachfront waterparks, too. Let's check them out!
Cape May Beach, Cape May
As one of the country's first seaside resorts, Cape May Beach is a leading summertime 2-mile beach destination for all ages. With both beaches and boardwalks, Cape May is a small town with a big personality.
Cape May is located 45 miles south of Atlantic City, about 90 miles southeast of Philadelphia, and only 160 miles from New York City! Cape May's central location makes it a hotspot for those looking to escape the city life for a while.
While only about 4,000 people call Cape May "home" year-round, the city experiences an explosion of tourists annually, with about 50,000 people traveling to town. If you're both a beachgoer and a history buff, Cape May offers beautiful historic homes that have been converted to bed-and-breakfast establishments. Additionally, Cape May provides visitors excellent opportunities for bird watching, wine tastings at local vineyards, and pristine beaches.
Cape May Beach is family-friendly and extends over a 2-mile long stretch of the New Jersey coastline. During the summer months, lifeguards are stationed along the coast. Between November and March, the beaches are pet-friendly and allow dogs to run and swim. A beach tag, or admission ticket, is required for all visitors over the age of twelve.
Cape May Beach is an excellent option for visiting New Jersey beaches because of sundry beach accesses, enjoyable off-beach activities, and its central location
Avalon Beach, Avalon
Avalon, New Jersey, is a superb location for early birds looking for a beach vacation. First, if you enjoy a sunrise walk along the coast, planning a visit to Avalon Beach is certainly worthwhile. After the sun is up, visitors can enjoy a variety of beach activities like swimming or surfing.
Notably, Avalon Beach's surf chair initiative is inclusive and extends the opportunity to visit a beautiful beach to everyone. This program is for those who need accessible access to the beach by providing surf chairs specifically designed for moving across the sand. The chairs are complementary to anyone who needs them.
Picnics are allowed on all of the beaches in Avalon, but campfires and alcohol are prohibited. For active beach goers, the Avalon beaches offer designated areas for volleyball and frisbee.
Beaches in Avalon also require visitors to purchase a seasonal beach tag for about $25. Conveniently, beach tags can be bought online and sent directly to your smartphone for easy access. Visiting Avalon, New Jersey, will undoubtedly be an excellent summer beach vacation.
Ocean City Beach, Ocean City
While there are several Ocean City beaches, Ocean City Beach is one of the most famous beaches in the area and in all of New Jersey. It offers nearly eight miles of stunning coastline and visitors have been traveling to the area since around 1879. That tourism industry is what compelled the city to build its boardwalk in 1900.
Today, the boardwalk boasts restaurants, shops, and many other amusements! Not only can you get to the beach from the boardwalk, but you can also visit Playland's Castaway Cove and Gillian's Wonderland Pier. You can also play mini-golf nearby.
The natural history and environment surrounding Ocean City are unmatched since it's nestled between Great Egg Harbor Bay and the Atlantic Ocean. Wildlife, like ospreys, makes up some of the astounding maritime natural attractions.
Ocean City is a dry community, meaning that no alcoholic beverages are sold within city limits. This policy stems from its founding by Methodist ministers who wanted to make the seaside community a haven for Christian ideals. While travelers can bring their own alcohol, no public drinking is allowed within the town. If you're looking for a drink with dinner, Atlantic City is located north of Ocean City and has many options for restaurants, bars, and casinos.
For a breath of fresh air away from the beach's hustle and the boardwalk's bustle, travel south to Corson's Inlet State Park.
A daily parking pass is $5. Pets are allowed on the beach from October 1st to April 30th.
Gateway National Recreation Area Sandy Hook, Highlands
The Gateway National Recreation Area Sandyhook Unit is the perfect option for a family beach vacation. The area is also home to the oldest operating lighthouse in the United States. You can find this near Fort Hancock, a former Army fort situated in the recreation area.
Different parts of the beach can be rocky, wide and sandy, or crowded with other beachgoers. With that said, Sandyhook beaches offer a spot for everyone.
Enjoy activities including hiking, swimming, boating, and camping. Locals and tourists alike also enjoy the food trucks which line beach access roads in the summer.
If traveling with children, steer clear of Gunnison Beach which is clothing-optional during the year's warmer months. Gunnison is also located in Sandy Hook. If you plan to attend Gunnison Beach, be sure to review all of the city's regulations to avoid a civil fine for any early or inappropriate disrobing.
Leashed pets are welcomed at Sandy Hook Beach. There's a $20 daily parking fee from Memorial Day to Labor Day.
Ocean Grove Beach, Ocean Grove
Ocean Grove is a 640-acre, little coastal town near the center of the New Jersey shore. Ocean Grove is very walkable and offers free parking on the street. Like Ocean City, Ocean Grove is also a "dry" town, so stores don't sell alcohol.
The ambiance of Ocean Grove Beach is relaxing and peaceful. Like others on this list, it ranks high for being exceedingly family and children-friendly. New Jersey beaches have many options for kids to experience the beach and other adventures.
During the summer season, Ocean Grove offers a variety of water activities like swimming or surfing. There are also shallow waters for little ones. It's also one of the best beaches in New Jersey for shelling.
During cooler months, the boardwalk is still active and maintained so visitors can enjoy shopping and dining while taking in incredible ocean views.
Adjacent to the town's beach are well-maintained changing rooms and bathrooms. Ocean Grove Beach has lifeguards on duty during the summer. Daily beach passes are $10.
Wildwood Beaches, Wildwood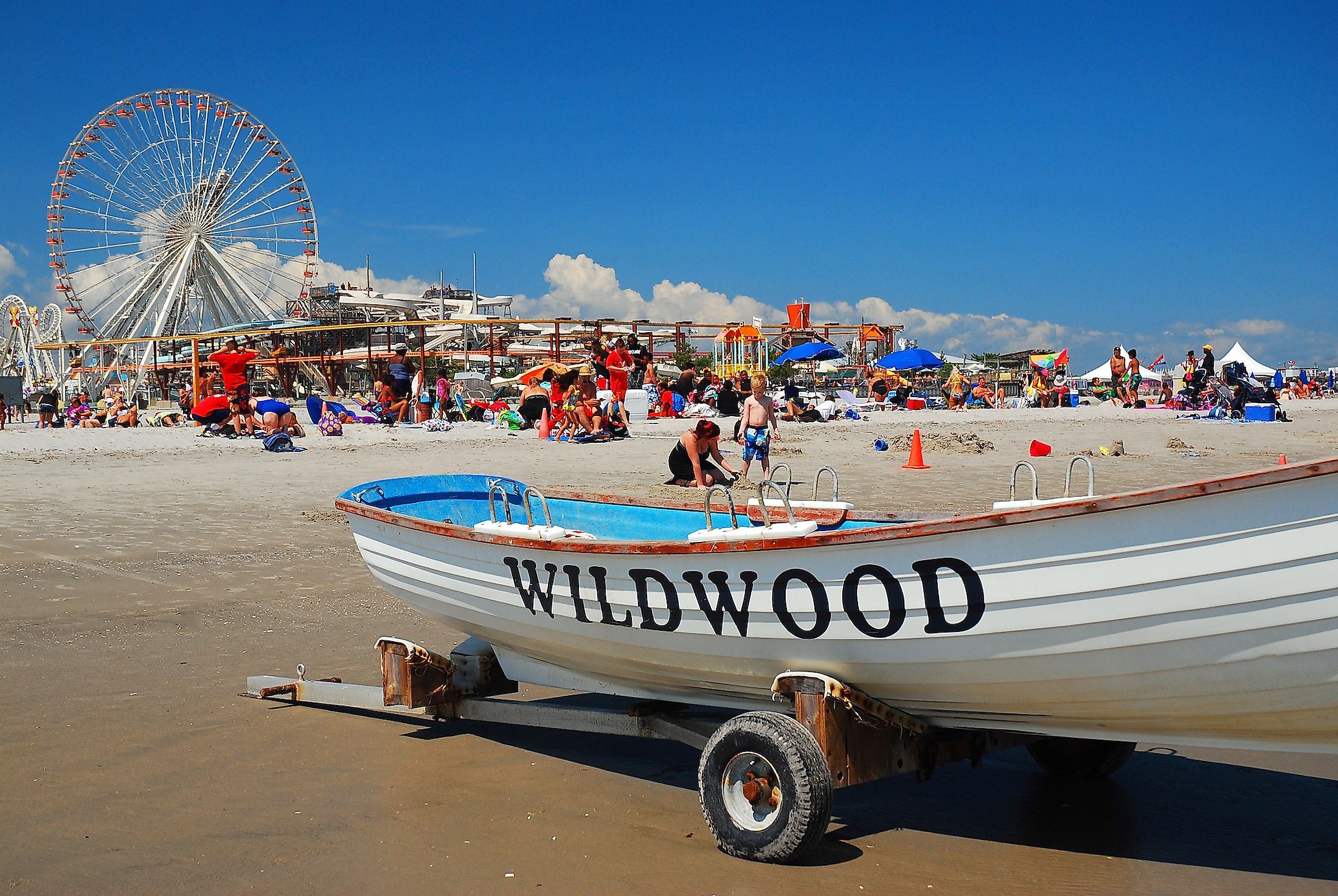 The Wildwoods is a resort area in southern New Jersey. It's a novel space nestled among the boardwalk and the waterfront. The beautiful beachfront area often holds events like concerts or rallies.
For years, those in the area knew Wildwoods as an excellent place for families to enjoy an entertaining vacation during the summer. However, recently, The Wildwoods has transitioned into a year-round destination hosting car shows and sports tournaments. What used to be a town that closed down after Labor Day in September has become a destination location where visitors come all year-round.
Beaches in Wildwoods are beautiful and free to access. Surf, boogieboard, sunbathe, or even play beach volleyball. When you're ready to change things up, the iconic Wildwood boardwalk is filled with restaurants, shops, and waterparks. There's something for everyone at Wildwoods beaches!
Point Pleasant Beach, Ocean City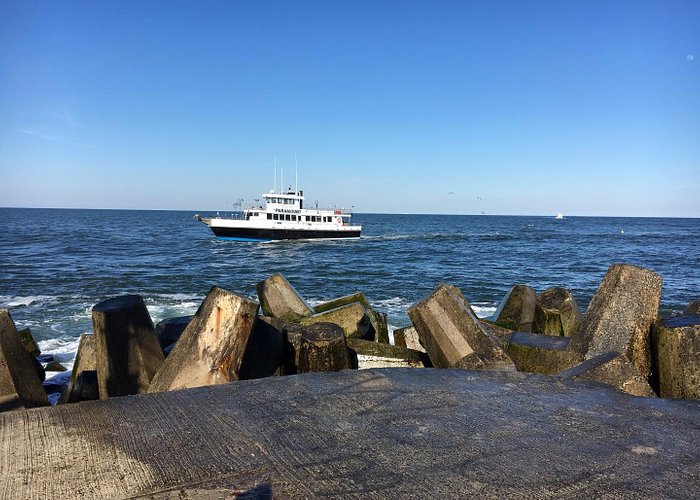 Point Pleasant Beach is a borough in Ocean City and is one of the best public beaches in New Jersey. Visitors enjoy hanging out of the shore for kayaking, swimming, and walking along the white sand beaches.
While the tide can be rough at times, lifeguards are on duty at Point Pleasant Beach. On rainy or cold days, Point Pleasant Beach is still a great vacation destination. Bay Avenue and Arnold Avenues have numerous places to thrift and to look for buried treasures. Specifically, the Point Pavilion Antique Centre comprises more than forty dealers and is a must-visit.
Another town highlight is Jenkinson's Boardwalk. This one-mile-long boardwalk offers beach access, mini-golf, amusement rides, and various restaurants. Some of the most well-loved places include an old-school candy shop and a fancy pizza restaurant. There are also rides, carnival games, and the Jenkinson's Aquarium.
Point Pleasant Beach is so much more than a beach. It's the ideal vacation spot with endless amenities and things to do. Beach fees vary according to days visiting and age of the visitor but are always less than $15 per person.
Lavallette Beach, Lavallette
The town of Lavallette is named after Elie A. F. Lavallette, a rear admiral in the United States Navy. Lavallette was one of the first people appointed to the position after President Abraham Lincoln created it in July 1862.
The Lavallette area offers ocean and bay beaches for the public to enjoy seasonally. Lavallette Beach has recently been renovated to deter the effects of erosion and to replenish the beach with sand. Coastal storms caused damage to the beach over many years, but with these corrections, the area is set up to remain beautiful for decades to come.
Between June and September, visitors enjoy surfing and swimming in specific areas with lifegaurds on duty. Additionally, tourists can try crabbing or fishing from one of Lavallette's bayfront docks. For even more adventure, there are opportunities for sailing and windsurfing.
Enjoy walking on the boardwalk, bicycling, and boating at Lavallette Beach. The beach also has tennis and bocce courts as well as places to play shuffleboard and basketball. If you're looking to hit the waves, Lavallette is a great place to do it and there are also surf schools nearby.
Beach wheelchairs are available at Lavallette. A daily beach pass is $12 and free for children, disabled veterans, and military personnel.
Seaside Heights Ocean Beach, Seaside Heights
Seaside Heights Ocean Beach is filled with locals and tourists enjoying the sun and sand between March to October. Fun fact: this area was the primary filming location for the hit MTV show Jersey Shore.
Seaside Heights business improvement district has expounded upon the benefits of the television reality show being filmed there due to its startling economic use to the community. Even now, the area continues to grow, especially in tourism, and experience economic development due to the show's success.
Running parallel to the beach is the Seaside Heights Boardwalk lined with several carnival rides, various arcade games, and many restaurant options, including a local gem – Kohr's Frozen Custard. The custard shop is over a hundred years old and is a Seaside Heights staple.
Seaside Heights is the quintessential Jersey Shore beach. It's a spot where you can find families, couples, and friends enjoying an exciting beach vacation.
Swimming is only permitted at the beach when a lifeguard is on duty. There's a daily fee of $9, free for children and military personnel.
Washington Avenue Beach, Spring Lake
Spring Lake, New Jersey, is home to some of the most gorgeous beaches in New Jersey. Washington Avenue Beach is one of the best! Past guests have indicated that free street parking is abundant, especially for early birds.
Washington Avenue Beach is known to be pristine, partly because food is prohibited on the beach. While this can be difficult for families with children who like to spend the day on the beach, the no snacks rule is meant to keep debris off the beach. With that said, there are options for food nearby.
Lifeguards are on duty for safe swimming and visitors enjoy resting or biking on the sandy beach. The nearby boardwalk offers incredible ocean scenery and opportunities to sit on a bench and take a rest.
Keep a lookout for the renowned author, Mary Higgins Clark, who owns a home in Spring Lake and visits often!
A daily beach badge is required with various costs but always $20 or less.