Here is the best places to visit in the spring season, These places are very good to visit in the spring and you will enjoy going here. Let me tell you about these places.
Darjeeling, West Bengal, India
Darjeeling is a popular hill station located in the foothills of the Himalayas. In fact, the places to visit in
The previous summer capital of India under the British Raj, Darjeeling has come off age as one of the most sought after hill stations in India. Located in West Bengal, this scenic hill station is the perfect getaway for a romantic honeymoon. Nestled amidst acres of tea plantations, Darjeeling stands at the height of 2,050 meters above sea level, thus boasting a cool climate all year round.
The toy train established back in 1881 is conferred the title of World Heritage Status by UNESCO. The train begins its journey from the plains and rises to over 2000 metres above sea level, offering breathtaking views of the mountains as it chugs along.
Over 86 tea estates in Darjeeling are responsible for producing the worldwide famous 'Darjeeling Tea'. Have a cup of locally brewed chai at the tea estate, or get down amidst the plantations to pluck a few tea leaves yourself; you are free to take your pick!
The third highest peak in the world and the highest in India, the Kanchenjunga peak, is visible from here, and you can enjoy a panoramic view of the peak. Some of Darjeeling's most popular attractions include monasteries, botanical gardens, a zoo, and the Darjeeling-Rangeet Valley Passenger Ropeway cable car, which is the longest Asian cable car. Tiger Hill is a fantastic spot to see the sunrise over the mountains in all its fiery glory.
Ziro Valley, Arunachal Pradesh, India
Tucked away in the forbidding mountain-scape of Arunachal Pradesh, Ziro Valley is an entrancing holiday destination in North East India which magnetizes everyone with its hypnotic natural charm peppered with sprawling rice fields, quaint villages and rolling green hills veiled under thick layers of vibrant flora. While the tranquillity of this charming little town makes it a soul seekers paradise, its epitomic scenic beauty also entices innumerable nature lovers and photographers who specially travel here from far and wide to soak their souls in the place's ethereal natural splendour. The place is great for adventure seekers too; whether one is looking forward to a soul-captivating trekking experience, a jungle camping fun or wildlife exploration, Ziro is not going to leave anyone disappointed.
Gulmarg, Jammu and Kashmir, India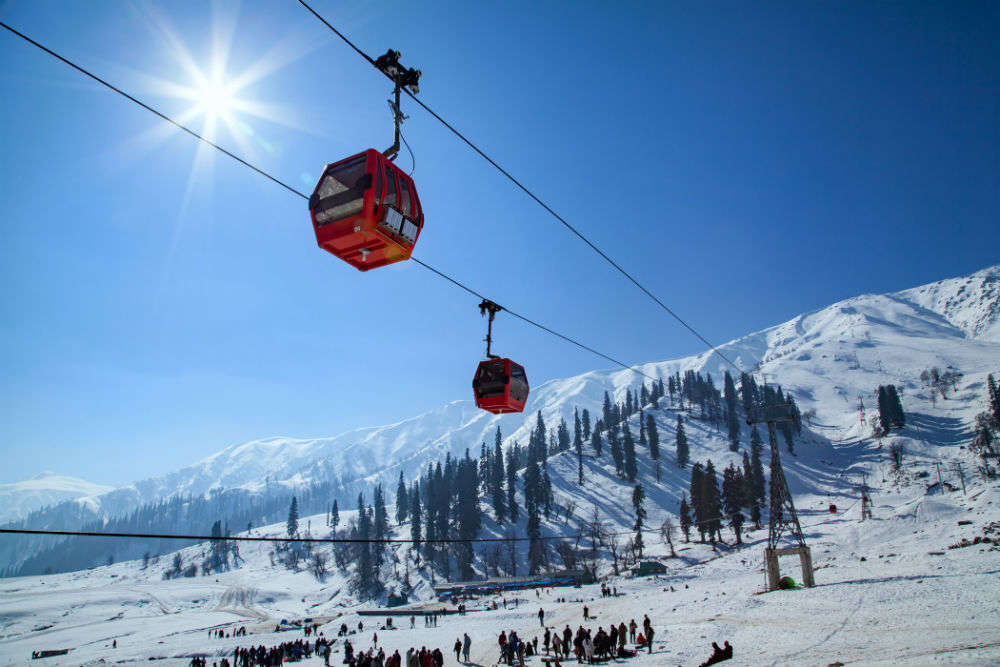 Situated at an altitude of 2730 m above sea level, Gulmarg is a popular skiing destination located in Pir Panjal Range of Union territory of Jammu and Kashmir. Surrounded by snow-covered lofty Himalayas, meadows of flowers, deep ravines, evergreen forested valleys, Gulmarg also has the world's second-highest Gondola ride.
Among one of the top honeymoon destinations in India, Gulmarg boasts of being a beautiful town without the crowd like Manali and Shimla. Gulmarg has also been developed as an adventure hub as Indian Institute of Skiing and Mountaineering is located here. A lot of courses on trekking, mountaineering, skiing, and snowboarding are offered by IISM. There are a lot of other private tour operators in Gulmarg as well which provide similar courses and facilities for skiing, snowboarding and trekking. Known for its scenic beauty, Gulmarg has also been a popular destination for shooting of various Bollywood films.
Andaman and Nicobar Islands, India
Andaman and Nicobar Islands featuring palm-fringed beaches with spotless stretches of white sands, an uninterrupted presence of peace, and crystal clear turquoise waters all around – Andaman is a true example of what you call 'Tropical Paradise'.
Andaman and Nicobar is an Indian archipelago located in the Bay of Bengal, claiming a large group of nearly 300 islands. While some of these islands have been commercialized and developed as tourism hubs, the rest are uninhabited, away from human interference and exemplify virgin nature.
Thus, from lively beaches bustling with fun-loving people to beaches teeming with the tranquillity of nature, Andaman and Nicobar has a variety which makes it an ideal destination for all. From kids to adults, from vacationers to explorers – they all return from Andaman elated and rejuvenated. In nutshell, Andaman is a treasure trove of experiences and delights in the form of varied activities, breathtaking sceneries, and of course, delectable seafood.
If you are stuck with a boring routine and a dull life, a visit to Andaman will definitely cheer you up by adding some vibrant shades to your palate. Being in Andaman feels like being in a different world that is far, far away from the world that lacks peace and purity. This piece of heaven in Asia is serene and untouched – a perfect destination for a refreshing holiday that offers a refuge from tiresome responsibilities of the urban world. Spending some days here is a great way to let your heart heal, to let your body relax, and to let your soul revive the lost strength.
Jaipur, Rajasthan, India
Planned by Vidyadhar Bhattacharya, Jaipur holds the distinction of being the first planned city of India. Renowned globally for its coloured gems, the capital city of Rajasthan combines the allure of its ancient history with all the advantages of a metropolis. The bustling modern city is one of the three corners of the golden triangle that includes Delhi, Agra and Jaipur.
The story goes that in 1876, the Prince of Wales visited India on a tour. Since the colour pink was symbolic of hospitality, Maharaja Ram Singh of Jaipur painted the entire city pink. The pink that colours the city makes for a marvellous spectacle to behold. Jaipur rises up majestically against the backdrop of the forts Nahargarh, Jaigarh and Garh Ganesh Temple.
Jaipur traces back its origins to 1727 when it was established by Jai Singh II, the Raja of Amber. He shifted his capital from Amber to the new city because of the rapidly-growing population and an increasing water scarcity. Noted architect Vidyadhar Bhattacharya used the established principles of Vastu Shastra to build the city.